Teaching in the Honors College
Honors Seminars | Characteristics of an Honors Course | Faculty Fellows Program | Application Process
Since its founding, the Honors College has sponsored courses for Honors students taught by faculty across the campus. Whether they are "H-sections" (enhanced versions of existing courses) or stand-alone Honors seminars, these courses give Honors students the opportunity to work closely with professors.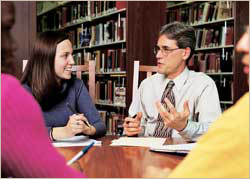 Honors Seminars
Honors seminars are an essential part of a challenging Honors curriculum: they give students a small-class setting in which to work closely with faculty members on current research problems, and introduce them to the rewards of work in different disciplines. In turn, Honors seminars provide faculty with the chance to explore new topics and to experiment with innovative teaching methods. All Honors seminars emphasize the development of critical thinking skills and should be designed to encourage students from different majors to participate fully. UMBC faculty can apply to teach Honors seminars by submitting the 2014-16 Honors College Fellows Application
Characteristics of an Honors Course
Analysis and Exposition: Honors courses develop the faculties of analysis and exposition—the ability to think and reason, and the ability to express the results of that thinking and reasoning.
Collaborative Teaching and Learning: Honors course instructors, sensitive to the distinction between teaching and learning, employ a collaborative pedagogy rather than the "empty vessel" approach to the classroom.
Smaller Classes: Honors seminars are limited to no more than 25 students.
Dialogue: The small size of Honors courses means instructors can encourage students to participate in the classroom conversation in virtually all class sessions.
Writing: Because writing is learning, Honors courses require a considerably greater amount of written work than do most regular courses.
Interdisciplinarity: Honors courses frequently cross disciplinary boundaries in order to make connections among the different methods of knowing characteristic of those disciplines.
Reflection: An Honors course asks students to reflect on the relevance of the course to their educational and professional plans.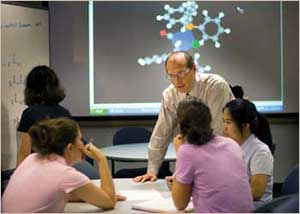 Faculty Fellows Program
The Honors College invites UMBC instructional faculty and post-doctoral appointees who wish to teach Honors seminars to apply to the Honors College Faculty Fellows or Post-doctoral Teaching Fellows program. Honors seminars provide faculty with the opportunity to teach courses linked to their research interests in classes limited to twenty-five students. When appointed by the Provost, Honors Faculty Fellows will teach one Honors seminar per year for the Honors College for a term of two years. Post-doctoral Teaching Fellows will teach only one Honors seminar for one semester.
The compensation for serving as an Honors College Faculty Fellow or Post-doctoral Teaching Fellow will be $4,000 per semester, remitted to the faculty member's home department or directly to the Fellow. The Honors College intends to appoint up to four Faculty Fellows and up to two Post-doctoral Teaching Fellows to teach in each application cycle.
Application Process
Inquiries regarding the Faculty Fellows and Post-doctoral Teaching Fellows programs may be directed to the Acting Director of the Honors College, Dr. Simon Stacey, spstacey@umbc.edu or x5-3720. Applications are due by the first day of classes every spring semester and will be reviewed by a committee from the Honors College and the Provost's Office. Final appointment by the Provost will be made shortly afterwards. For more information regarding the Faculty Fellows and Post-doctoral Teaching Fellows Applications, see the link above.