Student Interview: Andreas Seas
Andreas Seas is a current Honors College student studying Chemical Engineering in the Bioengineering Track.
Hometown: Ellicott City, MD
Favorite thing about UMBC: The fact that people from a variety of majors take advantage of the opportunity to work together, leading to some absolutely AMAZING research. It is also awesome how willing faculty are to make time for students – all it takes is an email!
Favorite thing about the Honors College: There are a few elements I love about the UMBC Honors College. First is the tremendous diversity in the types of minds included. The UMBC Honors College is a group built from students that share a love of learning and discovery rather than a specific major or career path. Also, the faculty are always up for a conversation, whether it be about academics or just some personal interest!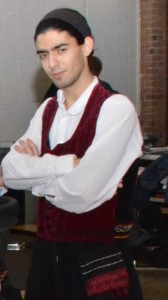 Favorite Honors College Memory: OK… so… in Honors Forum of Fall 2013, I made a habit of announcing upcoming Greek Festivals to all of the other students in my class. It just seemed like a good way to spread the word about these incredibly fun events (which anybody reading this should look into as well). Anyway, we had a video competition at the end of the semester in which each small group had to describe their response to a terrible disaster. I worked with my own team to make our video, which was awesome, but I also was a "guest star" in another team's video…. Basically, they were doing a news broadcast from Washington DC, which I would interrupt to announce an upcoming Greek festival. When the video showed on the last day of forum, the entire class burst out in laughter, including the staff.
Favorite Honors College Class: I have two favorites to mention. I personally loved General Chemistry Honors (CHEM 101H), which involved a different talk by a different professor each week. It was awesome to be exposed to so much of the amazing research at UMBC as a freshman! Also, we had our own presentations at the end of the semester, one of which included snacking on junk food frozen in liquid nitrogen! Another honors college class I likes was Chemical Engineering Analysis Honors (ENCH 215H), in which we were tasked with designing a heart – lung machine to cool and oxygenate fake blood. These machines are often used in cardiac and transplant surgeries, so trying to build one from old water bottles, tubes and pumps was challenging and amazing!
Favorite Honors College Professor: There is literally an impossible question for me to answer once and not want to change a million times. Instead, I'm going to say that every professor in the Honors College has been influential and tremendously helpful when it came to expanding my education from mere understanding to application and discovery. One thing I will say is that my conversations with the Honors College staff have especially helped me meditate on what I want to do as a member of society – what is my purpose, and how can I get to the best place to fulfill this purpose.
Advice that you would give to incoming Honors College Students: Do not be afraid to talk with any of the staff members, they (1) do not bite, and (2) actually really like hearing from you! Also, speak up and make your opinions heard, make an announcement in forum! I almost didn't say anything about Greek festivals that first fateful day, but I am thankful I did since now I have a great memory to treasure. Also some people listened and went to the festivals!
Tell us a little about your experience with your research at the University of Nebraska.
For the past two summers, I have performed research in the Department of Surgery at the University of Nebraska Medical Center (UNMC) through the MD/PhD Summer Undergraduate Research Program. I am still working with my lab remotely.
Currently, surgery is at a field where most common procedures are very low-risk. This is untrue for stenting procedures in the superficial femoral artery (SFA), which runs down the leg. What I mean here by stenting is when a surgeon places a cylinder of mesh in an artery to make a clear passageway for blood. Current statistics show that 50% of the time, stents in the SFA fail after only one year! Our main research objective is to figure out why this happens. My role in the lab has been to develop methods to (1) extract structural properties of the SFA from cross-sectional images, and (2) analyze the SFA's mechanical properties. While in Nebraska, I was also involved in a lot of awesome hands-on experiments, including artery dissection and mechanical testing. One unique aspect of my research was that I had the opportunity to work on a program for parameter determination for the first half of the day, and spend the afternoon and evening in the clinic or OR shadowing! I also had the chance to attend a variety of surgical and research conferences and meetings at UNMC! An exciting piece of news is that my mentors and I are presenting our lab's work at the 6th International Conference on Mechanics of Biomaterials and Tissues this December!