Academic Life | Beyond the Campus | Student Life | Qualifications | How to Apply
Is the Honors College for you?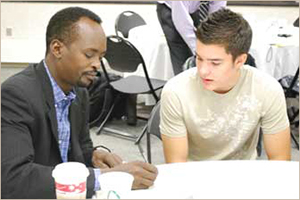 Academic Life
The Honors College at UMBC is an academic home for students who seek broad intellectual challenges, a comprehensive liberal arts foundation for their chosen field of study, and a community of like-minded and dedicated scholars. Honors College students have access to special Honors courses and seminars with limited enrollment. Click here for more information regarding the Honors College Certificate Requirements.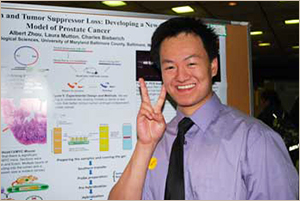 Beyond the Campus
The Honors College experience also involves much more than the classroom—it brings students together with one another and with people and events throughout the Baltimore-D.C. region and beyond. Honors College students enjoy opportunities to study abroad, conduct research, present their work at conferences, and engage in service learning and internships. In addition, students can attend Honors College sponsored events. Recent cultural excursions have included theatre trips to New York, the Baltimore Symphony and Baltimore Opera, the Everyman Theater, the Kennedy Center, and the Folger Shakespeare Library and Theatre in Washington, D.C.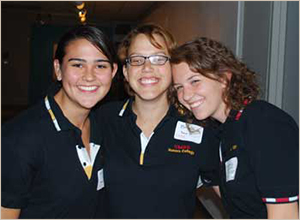 Student Life
Honors College students take full advantage of the many opportunities at UMBC, within and outside the Honors College.
The Honors College Living-Learning Community in Susquehanna Hall offers Honors College students the chance to continue their collaborative learning experiences in a relaxed residential setting. Students are able to pursue a range of academic and social activities with their peers, and to develop strong friendships through common goals, classes, conversation, and fun.
The student-led Honors College Council (HCC) coordinates cultural and social events and service projects. These events include the Lunch in the Lounge series, where students have lunch with faculty members; the annual Mirror Ball, a spring celebration; and Service Day, when Honors College students participate in service projects together. For more information about the HCC, please contact Dr. Jessica Guzmán-Rea at jessica.guzman-rea@umbc.edu.
Honors College students are also actively involved at all levels of campus life– in student government, athletics, publications, and student clubs and organizations– frequently as the leaders of student groups.
Qualifications
In reviewing applications, the Honors College places special emphasis on the written material submitted. The strength of the high school curriculum, GPA and standardized test scores are also very important.
Freshmen who wish to apply to the Honors College should have a high school GPA of 3.5 or better and good standardized test scores.
Successful applicants for Fall 2017 had an average of 1430 on the SAT and an average of 31 on the ACT.
For Transfer Applicants and Established UMBC Students, we look favorably on applicants who have already successfully completed honors courses, at UMBC or elsewhere.
A minimum unweighted GPA of 3.5 on a 4.0 scale
How to Apply
Freshmen and Transfer Applicants
In addition to meeting university requirements for admission, Honors College applicants must submit an Honors College Application.
Instructions for utilizing the Honors College application: We strongly encourage prospective freshmen and transfer students to complete the Honors College Application via UMBC's Common Application. Our application appears as a Supplement to the Common Application.
Applicants may also download a pdf of the Honors College application and submit it to the Honors College; applicants must also apply to UMBC. Download the Honors College application form to your computer (do not open the file in an internet browser). Open it in Adobe Acrobat, fill out the application, and save the completed application on your computer. After saving, open the file to ensure that your application information was saved. Attach the completed application to an email and send to honorscollege@umbc.edu.
Applications received after February 1st for freshmen or June 1st for transfer students will be reviewed on a space-available basis. Decisions about admission to the Honors College are only made after applicants have been admitted to UMBC. Generally, Honors College decisions are communicated beginning in January through April for incoming freshmen and beginning in April through July for fall transfer applicants.
Click her for more information on scholarships and financial aid for freshmen.
Click here for more information on scholarships and financial aid for transfer students
Established UMBC Students
Established UMBC students may download an Honors College application and turn it in to the Honors College in person or attached to an email to honorscollege@umbc.edu. Admissions decisions for established students are made on a rolling basis.