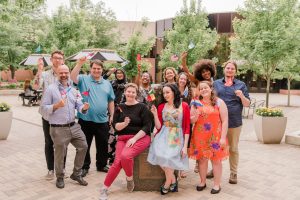 The Honors College is kept small (at about 500 students, less than 5% of the total undergraduate population) in order to provide the individualized attention that has become the hallmark both of Honors College membership in general and of the classes and co-curricular activities sponsored by the College. Because being in the Honors College is a special distinction on campus, faculty and staff are eager to connect Honors College members with resources and opportunities to enrich their experiences at UMBC and prepare them for life after graduation.

Advising
In addition to the advising they receive from their academic departments, members of the Honors College benefit from holistic, one-on-one advising with designated Honors College staff each semester. Regular advising gives students the knowledge and support to make the most of their time at UMBC and plan for their aspirations as wisely as possible. Honors College members are encouraged to contact their advisors with questions and concerns as they arise, whether during the academic year or in the summer.

Nationally Competitive Scholarships
Nationally competitive scholarships and fellowships are highly sought-after national and international awards that provide financial support and other benefits to exceptionally well-qualified students. The Honors College, in partnership with the Director of Undergraduate Research and Prestigious Scholarships, helps prepare students for these late-undergraduate and graduate awards, including the Goldwater, Fulbright, Truman, Gates Cambridge, Marshall, and Rhodes Scholarships. A significant proportion of the winners of these awards at UMBC have been members of the Honors College, including Naomi Mburu, UMBC's first-ever recipient of the Rhodes Scholarship.
Read more about UMBC's support of prestigious scholarship applicants here.

Summer and Winter Scholarships
The Honors College has limited funds available for current students to pursue their studies or research during the summer and winter sessions. The Honors College particularly encourages students to apply for support for research and/or special projects. Scholarships will be awarded for both study in this country and abroad; small research awards may be used to defray expenses like travel (i.e. to work in libraries or conduct interviews) or the cost of obtaining copies of documents. Past awards have ranged from $100-$1,500. Calls for applications are made early in the spring semester.

Internships and Service
Honors College members are encouraged to seek out internships and service opportunities in the Baltimore-Washington area to develop their professional experience and contribute their knowledge, skills, and creative energy to solving problems in our wider community. These experiences are formative, and in many cases have been stepping stones to jobs in policy, media, health, law, business, scientific research, and the arts. The Honors College can also reward credit for internships and service. Recent internship and service sites include the Cold Spring Harbor Laboratory, NASA, Google, National Public Radio, Kennedy Krieger Institute, the U.S. Census Bureau, and Aberdeen Proving Ground.