Congratulations Mary Aronne!
Intern of the Week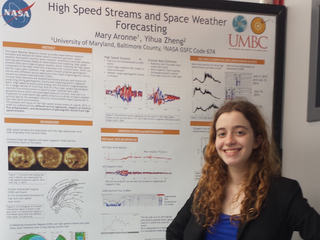 Mary Aronne '18, Environmental Science and Geography and member of the Honors College, is the Intern of the Week for her work at the Goddard Space Flight Center. Mary analyzes space weather by looking at satellite data and monitoring solar activity. In addition to her day-to-day space weather analysis, Mary has an ongoing research project she works on with the help of her mentor at Goddard.
Join us in congratulating Mary! To read more, follow the link below.