Congratulations to Our Fulbright Semi-Finalists
Twelve UMBC Students Named Fulbright Semi-Finalists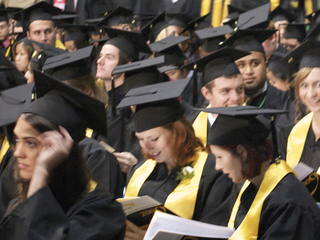 This year UMBC has twelve Fulbright semi-finalists and of those twelve, five are from the Honors College. After spending their summers crafting research proposals, personal statements, and statements of purpose, these students won the first round of rigorous review. As semi-finalists, the Fulbright National Selection Committee has sent their applications on to their respective host countries for the next round of review. Those who are selected as finalists will be notified between mid-March and mid-May.
The Fulbright Semi-Finalists from the Honors College are:
For Research Fellowships:
Jaelyn Bos, '17, Environmental Science/Biology, Mexico
Jacqueline Wojcik, '17, Visual Arts/Computer Science, Norway
For English Teaching Assistantships:
Kirsten Clark, '17, Modern Language and Linguistics, Colombia
Brian Shouse, '17, Political Science/History, Bulgaria
Christina Smith, '15, Global Studies/Modern Language and Linguistics, Bosnia and Herzegovina
Congratulations to all of them for their hard work and academic excellence!